Is Leather Working Hard?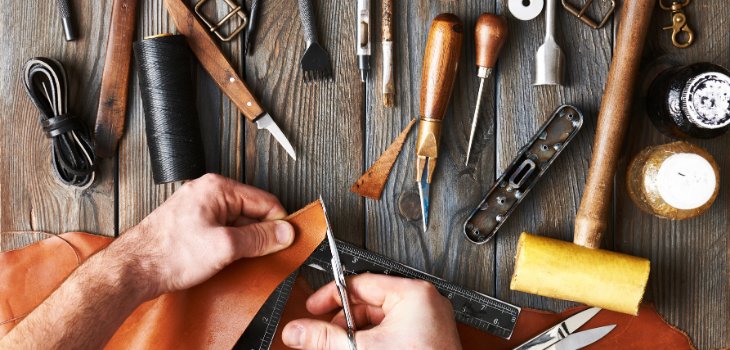 Canva.com -

At Leather Craft Blog, we recommend, review and write about products and tactics based on pinions and research, but we will earn a commission if you shop through the links on this page. The content on this page is biased by that fact.
If you are considering to start leather crafting I urge you to keep an open mind. Many people think it is hard to start leather working, but it all depends on what you are trying to do and make.
A question I often get is this….
Is leather working hard? It is not hard to start working with leather. You can start working with leather with a few materials and make simple, but beautiful items with a few steps and tools. The art of leather crafting has been around for centuries, and there are many different items and room for creativity and improvisation a long your journey.
You do not have to be an expert to start working with leather. You don't need that many tools either. You just need some leather and instructions where and what to begin with. For example you can start experimenting with a bookmark, a belt and then move on to a wallet or a knife shead.
When you get better you can make a briefcase, purse, mask, clothes and much more. The nice thing about leather crafting is that you can make everything with hand tools, and you learn new skills and techniques all the time, so you can go back to your old projects to add more details.
Here is why leather working is amazing:
There is no end to the possibilities with you new leather projects!
The internet is full of tutorials and how to guide to how to get started with easy leather working. As we go along, we will update this blog with step by step guides, but first we will supply you with a list of tools that will help you start leather crafting.
Leather Working Tools
You do not need all the tools to work with leather, and there is always room for improvement and to be creative. Here are some of the most basic tools for working with leather.
Basic Leatherworking Tools
Stiching needles (leather)
Thread
Stitching Awl
Hole Punches
Mallet
Cutting Board/mat
Sharp Knife, X-Acto knife
Edge Burnisher
Stitching Pony
Groover
Slab
Skiver
Overstitch Wheel
Beveler
Spacer
Diamond Chisel
Glue
Fid
Sketchbook
Working with leather is learning by doing. The same comes with all these hand tools. A lot of people start slow and learning from YouTube, and as I stated before, you do not need to get all these tools to get going. A lot of them are fairly cheap, and my point is that leather working does not have to be hard.
Thank you for reading this article and stay tuned for new updates.
This articles was made with support from Billig Fitness, which is a Scandinavian provider of fitness equipment. They have all kinds of fitness equipment such a foam roller, kettlebells and much much more.